Mon - Fri: 7:30am - 5:00pm
Sat & Sun: Closed
Pet Wellness Services
Pet Vaccinations in Omaha, NE
Omaha Animal Hospital offers safe and effective pet vaccinations to the greater Omaha, NE area.
Are you looking for pet vaccinations in Omaha, NE? The veterinary professionals here at Omaha Animal Hospital want you to learn more about pet vaccinations and their impact on your pet's overall well-being. The health and wellness of the pets we treat here in Omaha are some of our utmost concerns. Pet vaccinations are an important part of that recipe. Learning more about the different types of vaccinations your pets might need can prove to show great benefits in your pet's health.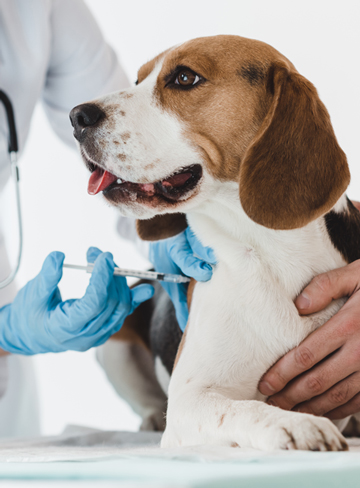 Why do I need to vaccinate my pet?
It is important to remember your pet has an immune system. Like humans, your pet is susceptible to disease and contagious health ailments. Vaccinations work to stave off the harmful viruses and bacteria that cause such diseases as canine distemper, parvovirus infection, coronavirus, Bordatella (Canine Cough), and Lyme Disease. Each of these diseases possess their own unique biostructure that can be prevented with the injection of modern veterinary vaccines.
What types of vaccines will my pet need?

Vaccinations for Dogs:

Distemper
Parvovirus
Coronavirus
Bodatella (Canine Cough)
Lyme Disease
Feline Distemper
Respiratory Complex Vaccination
Coronavirus
Leukemia Vaccination
Lyme Disease
How often will my pet need vaccinations?
Consulting with on of our veterinarians about your pet's specific health needs is always the recommended approach. Your pet's need for vaccinations can vary depending on several factors, like breed, age, sex, species and more. Typically, puppies should receive annual vaccinations for the first two years, and receive boosters the following years depending on size and breed. Our Omaha, NE vets can help determine the best course of action for your pet and can provide more insightful knowledge upon inquiry.
For more information about the advanced veterinary care provided at Omaha Animal Hospital, please give us a call today at (402) 734-5882.